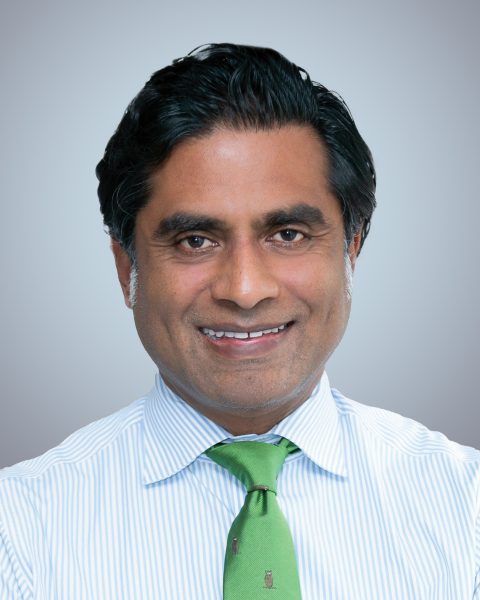 Dr. Reddy obtained his undergraduate degree from the University of Virginia and received his medical training at St. George's University in Grenada, West Indies. He pursued training in internal medicine at St. Luke's/Roosevelt Hospital-Columbia University in New York City and went on to complete a hematology/oncology fellowship at Emory University/Winship Cancer Institute in Atlanta, Georgia. He has been in practice for over 18 years in the metro Atlanta area and has fallen in love with the people and the state of Georgia.
Dr. Reddy is a Board-certified medical oncologist. He treats patients with all types of cancer as well as both benign and malignant blood disorders. He has a special interest in breast, lung, genitourinary and gastrointestinal malignancies. He also has extensive experience in treating malignant blood disorders such as leukemia, multiple myeloma and lymphomas. Dr. Reddy has been actively involved in clinical trials and research throughout his career and has been awarded as Investigator of the year by the GA NCORP on multiple occasions. Dr. Reddy is dedicated to the care of his patients and has a strong belief that caring for cancer patients is a 24/7 job and is fully committed to acting as a guide for patients through their journey.
Education & Training
Medical School
St. George's University
Internship and residency
St. Luke's/Roosevelt Hospital-Columbia University
Fellowship
Emory University/Winship Cancer Institute
Professional Affiliations
American Society of Clinical Oncology
American Society of Hematology
Apr 26th, 2023
Dr Reddy is the Best Oncologist. Very friendly and understanding.
Apr 7th, 2023
Very personable and attentive.
Mar 25th, 2023
I have been going there for 2 years never the same Doctors
Mar 15th, 2023
I don't understand how or why Dr.Reddy doesn't have 10 Stars!!! He and everyone that works with him care about you! You are not a number you are a real person. Dr.Reddy is the most real, compassionate and caring man I have met in the medical profession! When I first met him, he had my information from my other doctors on his desk. He doesn't leave you wondering what is going on!!!! He is amazing!!! His staff are amazing! All of them! Thank you Dr.Reddy and all your staff. From the front to the back!
Mar 15th, 2023
Dr. Reddy was my doctor when I was suffering with super low iron while I was in school. He went above and beyond his role as a doctor. He truly cares about his patients. He builds personable relationships with his patients and remembers something you told him literally 4 months ago. Very impressive and says a lot about his character. His staff is also so kind and caring towards everyone that walks in the door. They make a sad environment feel very warm, loving, and at ease.